Welcome to our home....
Finale' is a small cosy authentic Thai Cuisine Restaurant. We focus on our Authentic Thai menu with a warm and friendly service. Restaurant is feature a cozy dining room, comfortable furnishings with a soothing warm welcome atmosphere and unhurried. It will be the perfect place to stop in for a bite to eat, for a drink or for a small business meeting and perfect for a date night with a softly lit evening.
Finale' is one of our dreams, Finale' is a feeling life when you are finally found the person you love and waiting for or somewhere you could live your life.That is the moment of proud, success, fulfill and finally it is FINALE' our own little place is our meaning and the name come from.
The menu is inspired from Thai curry' specialities and appeal to a healthy well being, low calories diet by using some organic products for nowadays trend. You can get Thai curry specialities like Thai green curry, Thai red curry, massaman curry, jungle curry, or you can go a little bit more adventure with our popular Grilled steak Weeping tiger which indicated chilli strength to match your desire. Grilled duck breast with tamarind sauce, fish seafood and more, we also have the special dietary dishes such as Gluten free, fat free, vegetarian and vegan, optional dishes fish and chip, plain steak and chip or competitive prices saver menu, set menu which represent great value for money. Unforgettable exotic drinks such as Thai Rum, Thai beer, Thai spirit to accompany with meal. Can't miss a variety Thai classic dessert or sorbet to finish your beautiful night to bring you back to finale' for more and more.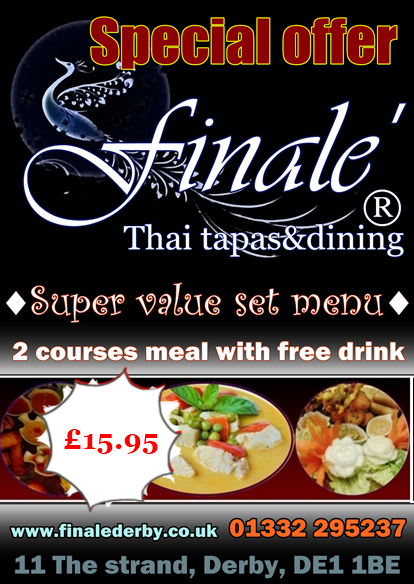 Finale' Thai tapas and Dining
11 The strand,
Derby Cathedral Quarter,
Derby DE1 1BE
e-mail : finale.derby@live.co.uk
Tel: 01332 295237
urgent inquiry please contact 07887523779
Open Monday - Friday
5:30 pm. - 11 : 00 pm.
Saturday
5:30 pm. - 11 : 30 pm.
Sunday : Closed
May close for private dining hire, cooperate canape', outside catering for wedding. we'll notice in advance.
**** Booking in advance strongly recommended****
We are strongly recommended make a booking in advance either 2 people or party. We are often arrange the outside catering, private function party which we need to arrange the whole restaurant for customers. To prevent the disappointment of any issue may causes, please make sure that you reserve the table or re check our website notice before you come to us. We reserve the right to close the restaurant even during our opening time because of these unforeseen circumstances. We are happy to assist our customers with any inquiry.